The challenge of history is to recover the past and introduce it to the present.
– Historian David Thelen
  Thanks for visiting our website, our "museum" filled with stories about Southlake's past and lots of photos.
  Whether you are an old-timer or a newcomer, living in Southlake is a much richer experience when you know its history.
  Start your journey by watching the Photo Slideshow, above, and taking the Magical History Tour. Explore the History of Southlake (under Area West of Grapevine, see a map that shows where stills, beer joints and a dog track were located) and the more than 300 photos in the Photo & Video Gallery.
  In Buildings & Markers, learn about the 1919 Carroll School, where Carroll ISD AND the city of Southlake were born; Southlake's log house, built of logs cut about the time Lincoln was president; and the 10 historical markers in town, including one that commemorates the two state troopers killed at Dove Road and Texas 114 by Bonnie and Clyde and/or a member of their gang.
  Take a look around.  Thanks for stopping by!
Cordially,
Connie Cooley, president, Southlake Historical Society
P.S. If you'd like to contact us, click About Us at the top of this page. We'd love to hear from you!.
2015-2016 SHS board
Connie Cooley, president
Rebecca Utley, secretary
Lou Ann Heath, treasurer
Emily Galpin, vp membership
Tamara McMillan, vp programs
Bruce McGaha, vp marketing
Anita Robeson, historian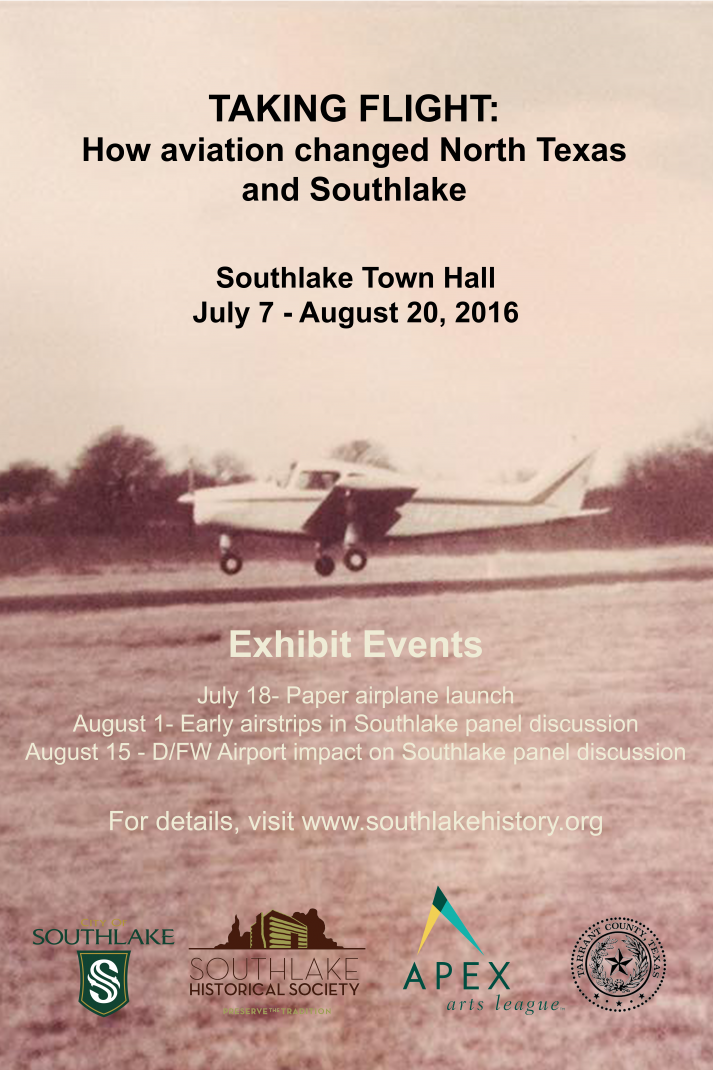 Our aviation exhibit, on loan from the Tarrant County Archives, takes a sweeping look at aviation in North Texas, including aircraft manufacturing and military, commercial and general aviation.
Also included is look at the 12 grass airstrips in Southlake that took adventuresome residents to new heights from the 1950s to the '90s.
The exhibit is on display until Aug. 20 in the lobby of Southlake Town Hall and the Southlake Library, 1400 Main St.
Exhibit hours will be 10 a.m.-8 p.m. Monday-Thursday and 10 a.m.-6 p.m. Friday and Saturday. The library is closed on Sunday. 
Don't miss these upcoming exhibit events: 
Monday, Aug, 1

–

 Public forum,

 "Flying in and out of Southlake's airstrips," 6:30-8pm, City Council Chambers. Participants include local pilots Zena Rucker, Dooley Rucker, Kathy Kasper Frank, David "Rusty" Rhodes and Steve White. Scheduled to attend is Bob Goode, who built Goode Airport near the intersection of Southlake and Davis boulevards and was an active commercial airport from the 1960s until 1998. 

Monday, Aug, 15

– Public forum, "D/FW Airport and its impact on the city of Southlake and its residents," 6:30-8pm, City Council Chambers. Participants include Southlake Mayor Laura Hill; Tarrant County Commissioner Gary Fickes; Greg Last, former Southlake economic development director; Frank Bliss, president of Cooper and Stebbins and longtime Realtor Lou Hillman. Moderator will be John Terrell, former Southlake mayor and current D/FW International Airport VP of commercial development. 
THANK YOU
Thanks to our honorary advisory board for their help and guidance in presenting this exhibit: Southlake
Mayor Laura Hill, Tarrant County Commissioner Gary Fickes, former Southlake Mayor John Terrell and aviation enthusiast Zena Rucker.
Special thanks to
Tarrant County Archivist Dr. Dawn Youngblood

for her encouragement, guidance and assistance with the resources of the Tarrant County Archives in order to launch this exhibit.

Thank you to Janice and Curt Horak and their professional team at
Priority Signs and Graphics

in Southlake for their exceptional work in creating the local aviation displays for this exhibit. 

A very special thank you to the
City of Southlake, the Southlake Library, the Southlake Arts Council and Apex

for their continuing partnership in bringing Southlake history to life.
The Southlake Historical Society wishes to thank the many former and current Southlake residents for their remembrances and photographs contained in the aviation exhibit including Zena and Dooley Rucker, Kathy Kasper Frank, Cindy and David "Rusty" Rhodes, Bob Goode, the Lafavers family, Bob and Emma Szabado, Mickey O'Brien, Lou Hillman, Nathan Hight, George Dalton, David Johnson, Pamela Muller, Stephen Thornton, Monique Schill, Pamela Muller, as well as the You Know You Grew Up in Southlake Facebook fans who answered the society's call for aviation stories including Judy Hargadine Lehew, Robyn Eubanks Coleman, Betty Murray Springer, Kenneth Stone, Wisteria Haines, Wanda Bradberry Carter, Pat O'Brien, Troy Darr, John Bandy, Gene Tate, Robert Sutton, Gary Nordling, Scott Wayland, Gaylon Bailey, Patrick Kirkland, Megan MacLeod, Jeffery Cedillo, Alicia Luchtman Nadai, Eric Denman and Jason Mellen; thank you to Sandra Bagwell and other members of the Jack Wiesman family for access to Mr. Wiesman's aviation and local history collection.
   
IF YOU'RE A DRAGON FAN, YOU GOTTA GET THIS BOOK
CLICK HERE to order a Dragon football book.
Get an up-close, year-by-year look at Dragon football, the folks who made it all happen, the players, the coaches and the die-hard fans in IMAGES OF SPORTS: SOUTHLAKE CARROLL DRAGON FOOTBALL by SHS president Connie Cooley.  Click above, or drop by the Southlake Library and purchase one there.